Home | Meet Our Lawyers | David Archibold
David Archibold, Corporate Commercial Law / Litigation Associate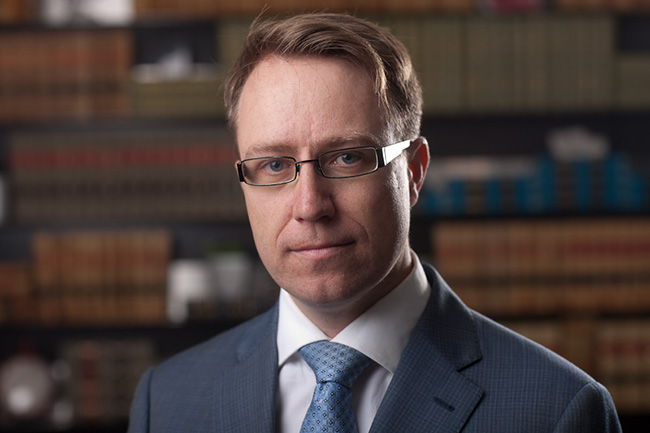 David is a lawyer practicing with Sharek & Co. in bankruptcy, debt enforcement, and related commercial contractual dispute litigation (specifically in the areas judgment enforcement, bankruptcy, insolvency, restructuring, and real estate litigation) and corporate law practice areas.
He has successfully appeared at all levels of court in Alberta, and at the British Columbia Supreme Court, British Columbia Provincial Court and Saskatchewan Provincial Court. David joined the firm in July of 2011 after obtaining a Bachelors of Sciences, Honours, in Computer Science in 2008 from the University of Saskatchewan and a Juris Doctorate from the University of Alberta in 2011.
Within his commercial disputes and litigation areas of practice, David emphasizes and practices in the areas of:
Bankruptcy and Receivership matters, for trustees, debtors and secured creditors;

Secured and unsecured creditors rights litigation and recovery matters;

Agricultural creditor recovery;

Contractual disputes;
David's corporate law areas of practice include:
Transactional corporate law including purchases and sales of shares and assets;
Reorganizations;
Business formation and business structures;
Limited Partnerships and business trusts;
Commercial agreements, bylaw, Unanimous Shareholders' Agreement etc. drafting and review; and
General counsel services
David acts for a variety of clients from individuals and small businesses to federal crown corporations, institutional lenders, oil field joint ventures and service corporations, through to publicly listed corporations.
Representative Work - Litigation
Counsel to an institutional landlord with respect to commercial lease enforcement on a variety of big box shopping centres throughout Alberta.
Counsel to a multinational supplier of construction materials to the residential and commercial construction industries in respect to recovery of trade debts in Alberta and British Columbia including placement and enforcement of liens on projects through Alberta and British Columbia.
2021 ABCA 168 - Farm Credit Canada v. Chan - Counsel on appeal of decision where the court of appeal found that the defences of non est factum, ex turpi causa, or non-enforceability due to the Guarantees Acknowledgement Act were bound to fail and judgment sustained in favour of our client.
2020 ABQB 357 - Farm Credit Canada v. Pacific Rockyview Enterprises Inc. - Alberta Court of Queen's Bench considers summary judgment in favour of Farm Credit Canada with competing applications to amend pleadings, raising issues of equitable relief claims by guarantors.
2017 ABQB 725 - ParkPlace Communities Ltd. v. Wong - Alberta Court of Queen's Bench considers the application of the Condominium Property Act provisions dealing with rescission and determines communication of acceptance of a condominium purchase agreement must be made in a method akin to service under the Alberta Rules of Court.
2015 ABCA 262 - Champion Feed Services Ltd. v. Hospers - Alberta Court of Appeal grants permission to appeal decision reported at 2015 ABQB 259 as the issues are of sufficient merit and importance to warrant further consideration.
2015ABQB 259 - Champion Feed Services Ltd. v. Hospers - Alberta Court of Queen's Bench concludes that entitlement to funds held as alternative security is not dependent upon the pool of funds (constituting replacement security) but depends upon priority of the underlying security.
2014ABQB 741 - Wilson v. Board of Trustees of Aspen View Regional School - Alberta Court of Queen's Bench determines that the mandatory wording of Rule 4.33(1) precludes the exercise of discretion and decides that if any such power were available in relation to Rule 4.33(1), its exercise would only be warranted in the clearest of circumstances, and consistent with the overall intent and focus of the rule to prune out cases that have become inactive or dormant.
2014 ABQB 490 - Champion Feed Services Ltd. v. Hospers - Alberta Court of Queen's Bench considered the provisions of the Alberta PPSA which give animal feed suppliers priority over other secured creditors for feed provided to animals. The Court held that this priority only exists from the date of registration, and that unlike the registration of personal money security interests, the registration of a security interest for animal feed does not have retro active effect.
Unreported Companies Creditors Arrangement Act (CCAA) Proceedings - Counsel for senior secured creditor on CCAA proceedings of an integrated lambprocessor.
Unreported Receivership with competing Notice of Intention to file a Proposal -Counsel to the debtor, an Acheson, Alberta-based general contractor that was placed in receivership on application by bonding company.
Unreported Interim Receivership and Bankruptcy - Counsel for floorplan financeer of multiple location agricultural equipment dealership where our client obtained an expedited InterimReceivership to monitor during winding down of operations of an agricultural equipment dealer with $15.4 million in liabilities, including $3.7 million claimed by our client, the bulk of which was recovered.
Unreported Bankruptcy - Counsel to Trustee in bankruptcy of high-end home builder.
Unreported - Bankruptcy Notice of Intention to Make a Proposal and Proposal - Counsel for an Edmonton, Alberta-based company specializing in excavation, site preparation and site remediation for a successful Notice of Intention to make a Proposal and Proposal owing approximately $3.6MM in debt.
Unreported Receivership - Counsel for a junior secured creditor of bison and equipment in the Receivership of a Dawson Creek, British Columbia-based bison ranch, placed in receivership owing in excess of $7MM of debt.
Unreported Receivership - Counsel to the Receiver in the Receivership of an Edmonton, Alberta-based underground utility contractor.
Unreported Bankruptcy - Counsel to the Debtor in a Bankruptcy of a hydro vac and directional drilling contractor.
Unreported Bankruptcy and Proposal made in Bankruptcy - counsel to the Trustee of a Limited Partnership drilling services contractor and its general partner in a bankruptcy and proposal made by the Bankrupt resulting in the sale of the business as a going concern and 100% recovery to unsecured creditors.
Unreported Bankruptcy - Counsel to the Trustee in Bankruptcy of a designer and manufacturer of metal products to the oil and gas, water and wastewater treatment, mining, and construction sectors.
Unreported Bankruptcy - Counsel to the Trustee in Bankruptcy of a corporation petitioned into bankruptcy by bondholders owning a commercial building in Red Deer, Alberta.
Unreported Receivership - Counsel to the Receiver in the receivership of a multiple location recreational equipment dealer placed into receivership after fires at multiple locations resulted in the corporation ceasing to operate as a going concern.
Unreported Restructuring - counsel to a commercial paving contractor in the successful restructuring of the business to compromise outstanding indebtedness and continue as a going concern.
Representative Work - Corporate
Counsel to over 100 small businesses for general corporate matters.
Counsel for a restaurant corporation in the sale of the controlling interest to another shareholder in the course of a shareholders' dispute.
Counsel to an accounting firm on the purchase and acquisition of accounting firms in Alberta and British Columbia.
Counsel to a pharmacy group for general corporate transactional matters

Memberships and Associations
Law Society of Alberta
Law Society of British Columbia
Canadian Bar Association
Education
University of Alberta, Law, 2011

University of Wollongong, Law Exchange Student, 2010
University of Saskatchewan, Computer Science, 2008
Legal Services
Commercial Litigation
Builders' Liens and Construction Matters
Exempt Market Securities
Corporate Matters